Alternate Outgoing Mail Setup Options:
We have acquired permission to utilize an alternate mail server, which uses SMTP authorization in addition to the "POP before SMTP" authorization that our servers do. The problem with the POP authorization is that it can take between 30 seconds and 5 minutes for our servers to identify your IP address after you check your mail and make the necessary changes that would permit you to send mail. This alternate scheme eliminates the time delay but requires special settings in your email software. See the special setup instructions below:
The email account "thomasp", shown below, is fictitious. Replace this information with your account's "user name" and "password". Also, do not replace the "Incoming Mail POP3" setting. It should be "mail.i5net.net" for all i5net accounts.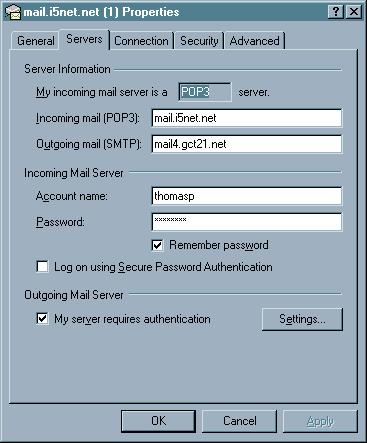 Where you specify your incoming mail server configuration stuff in Outlook you will need to put in your normal I5NET account data such as :

POP = "mail.i5net.net" and your account name and password so that you can still receive email from our servers.

All outgoing email would be routed through a single account on our networks server. Therefore you will need to specify "mail4.gct21.net" as the SMTP server address and click the "My Server requires authentication" option. Then you will need to setup the authentication "Settings" as follows:

Use your i5net email account settings for the incoming mail server. Replacing the "thomasp" and the password above with your information.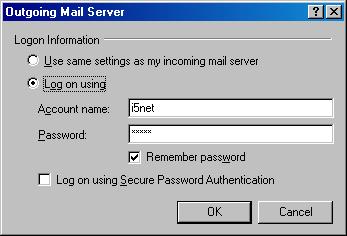 All I5NET accounts will specify log on using the account name: "i5net" and password "mail4". Again, this is the same for all I5NET customers. Select the "remember password" option and DO NOT select the "Log on using Secure Password Authentication". Once this is done your email is reconfigured and you can give it a try.

I5NET does not operate the servers you will be using for outgoing mail with this configuration, so if you become unable to send mail, we may not be able to fix things. In that case you could still revert to the old SMTP settings of "no authentication" and SMTP = "mail.i5net.net".

You may notice slightly faster response using this configuration, and better overall response when doing mass mailings.

If it does or doesn't work for you, Let us Know by Clicking Here .