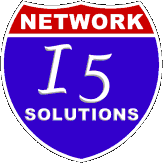 I5 Network Solutions offers many dial-up options to meet your internet needs.
We currently offer dial-up in all 50 states as well as many international locations.
For more information email or call us at: 916-456-7240

I5 Network Solutions OFFERS:
| | |
| --- | --- |
| | 56K V. 90 Dial-up Access |
| | No setup fee for personal plan |
| | Web Space for all your internet needs |
| | Secure Server (SSL) |
| | Set-up assistance for dial-up and business accounts |
| | Software Compatibility (Netscape and Internet Explorer) |
| | Compatibility with Windows 3.1, Windows 95, Windows 98, NT |
| | ISDN (Integrated Systems Digital Network)- allows multiple computers on internet at the same time without lose of transmission speed. |
| | Advertising Banner Network |
| | All hosted sites include a Control Panel administration center which makes it easy to upload files and control your account. You can also setup a guest book and other features through the I-5 Pages interface. |
| | Site hit and page view statistics analysis software which creates a web site of the statistics for each business hosting account. |
| | Shopping Cart creation software and Mall Hosting for Storefronts at I-5 Stores. |
| | We also offer Website creation and Authoring Services at very reasonable rates. |
The past few years has seen a rapid growth in marketing and commerce on the internet. Are you looking to explore your business potential as well, but lack the time to create a web presence?
*I5 Network Solutions is dedicated to providing and hosting quality web content. We reserve the right to refuse or terminate service to any customer as a result of complaints or discovery of offensive material, this includes use of email for distribution of offensive material or spamming. Thank you.
©I5 Network Solutions 2000